The Power of Intention by Dr Wayne W. Dyer
Change the Way You Look at Things and
The Things You Look at Will Change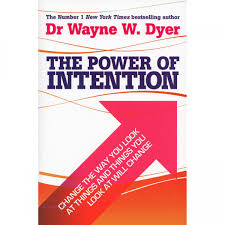 Dr. Wayne Dyer writes about the Four Steps to Intention and says that: "Activating your power of intention is a process of connecting with your natural self and letting go of total ego identification."
In his book he discusses how the process of intention takes place in four stages.  Here's an extract from the book:
1. Discipline is the first stage.  Learning a new task requires training the body to perform as your thoughts desire.  So, eliminating ego identification doesn't mean disconnecting from your relationship with your body, but rather, training your body to activate those desires.  You do that with practice, exercise, nontoxic habits, healthy foods, and so on.
2. Wisdom is the second stage.  Wisdom combined with discipline fosters your ability to focus and be patient as you harmonize your thoughts, your intellect, and your feelings with the work of the body.  We send children off to school telling them:  Be disciplined and Use your head, and call this education, but it falls short of mastery.
3. Love is the third stage.  After disciplining the body with wisdom, and intellectually studying a task, this process of mastery involves loving what you do and doing what you love.  In the world of sales, I call it falling in love with what you're offering, and then selling your love or enthusiasm to potential customers.  When learning to play tennis, it involves practicing all of the strokes while studying strategies for playing the game.  It involves enjoying the feeling of hitting the ball and of being on the tennis court – and everything else about the game.
4. Surrender is the fourth stage.  This is the place of intention.  This is where your body and your mind aren't running the show and you move into intent.  " In the universe there is an immeasurable  indescribable force which shamans call intent, and absolutely everything that exists in the entire cosmos is attached to intent by a connecting link," is the way Carlos Castaneda describes it.  You relax, grab the trolley strap, and allow yourself to be carried by the same power that turns acorns into trees, blossoms into apples, and microscopic dots into humans.  So grab that trolly strap and create your own unique connecting link.  Absolutely everything in the entire cosmos includes you and your disciplined, wise, loving self, and all of your thoughts and feelings.  When you surrender, you lighten up and can consult with your infinite soul.  Then the power of intention becomes available to take you wherever you feel destined to go.
The Power of Intention by Dr Wayne W. Dyer